Bedding set manufacturers in India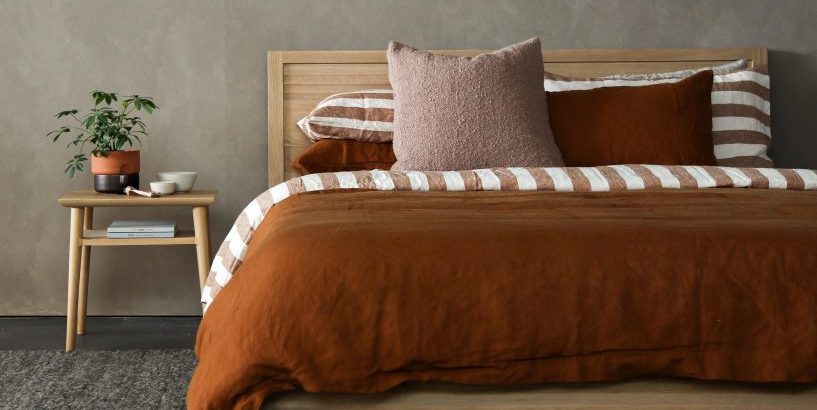 It is said that your personality shows in the way you keep your surroundings, which is why Home Décor is one of the necessary segments in today's life. Everyone wants a perfect home with all the right things in the right places. One of the most important things in Home Décor is Bed-sheets! As part of the interior bedroom, a decent bed sheet that matches the aura of the room is essential. To make things easier, Sheet Sets have been introduced. These sets consist of all the bedding materials we need which are hassle free and easy-going.
According to Trade Statistics for International Business development, the export value of Cotton Bedlinen from India is increasing every year, more homes are aspiring to replicate the same beautiful looks of beddings as seen in hotels and why not, these sheets are well-formed, hassle free, economical, easy to use, compact and it gives some zing to the interiors.
Sheet Sets: The Next Big thing
Your bedroom is the ultimate respite from the worries of everyday life, whether you're sleeping or reading in the corner. We believe that every bedroom should be soothing, pleasant, and sumptuous – and we want to share our excitement with you.
Sheet Set is a package of coordinated sheets which consists of a lower fitted sheet, a deep fitted lower sheet, a top flat sheet, cushion covers and pillowcases and since customizing is one of our strengths we can provide the set according to one's need in addition with various things like, bed border runners (a strip of fabric, usually of different colour than the sheet placed on the edge of the bedding) or even comforters.
Cotton Monk as makers of Sheet Sets
One of the key strengths we have is understanding the needs of you and your customer, therefore customization is one of our strong suits. Cotton Monk is well-equipped to make Sheet Sets based on your requirements. Quality goes hand in hand with other every aspect of our work and since we are in this industry for a significant period we have mastered the art of bringing together the right fabric and design to create quality sheet sets to suit each of your requirements.
Factors to look at when selecting Sheets Sets
Before choosing anything else in the Sheet Sets one should have a look at the thread count, it is one of the most important things when it comes to the quality of a fabric. The total number of yarns (horizontal and vertical) per square inch of cloth is referred to as thread count. A high thread count frequently suggests finer yarns: thinner yarns may fit more into one square inch than thicker or coarser strands. As a result, high thread counts have been linked with high-quality fabric since finer yarns are considered to make the sheets softer and more durable. Though, it doesn't always mean that higher the thread count, better the quality because the top rated Sheets often have thread counts between 300 and 500. The quality of the fabric depends on fabric consumption and the type of weave used too.
When it comes to sleeping comfortably, good bed linens are vital. Bed sheets not only influence comfort, but they also preserve sheets from stains and dampness. Fibre content in sheets also helps determine how to wash the sheet sets, the right time to wash them and the most suitable seasons to use your sets. Sheet sets can be made from a variety of fibres – linen, cotton, satin, silk, flannel, polyester and blends, each having their own unique property.
Cotton, silk, and linen are examples of natural fibres. They have several benefits, including great absorbency and breathability, which contribute to a restful night's sleep. Because the fabric is porous, it wrinkles easily and should be hung outside to dry or removed promptly from the dryer. Because the fibres are natural and less treated, they have an irregular hue or texture.
Polyester, acrylic, and nylon are examples of synthetic fibres made mostly from petroleum-based compounds. Unlike natural and synthetic fibres, these fibres resist wrinkling and retain their vibrant hues over time. The sole disadvantage is that synthetic fibre materials maybe unpleasant during hot and humid evenings.
The cotton-polyester mix is the most common in Mixed Blends. The most essential advantage of this combination is that the fabric will resist wrinkles and preserve its colour after several washes – because of the polyester percentage – while remaining cool and crisp thanks to the cotton content. This fabric is the most preferred for bedding in terms of value and comfort.
Weave interlacement is one of three factors to look at when choosing the Sheet Sets because it not only changes the fabric texture but also affects the functionality of the fabric. It is observed that the type of weave has a significant effect on the dimensional behaviour of fabrics. Plain weave  shows the lowest shrinkage because of higher number of interlacement points, followed by 2/2 Twill weave and 3/1 Twill weave while on the other hand, satin weave with the lowest number of interlacement points shows the highest shrinkage.
A Style Statement
The beautiful coordinates that these sheet offer can be a game changer to an individual's lifestyle. Since, the ensemble gives an impression of a well-organized home it can be a great addition to a person's home! The right combination of sheet sets can enhance the room to appear in sync to the colours of the wall or the type of furniture. Pastel sets can give the room a pleasant vibe while a contrasting set can add a splash of colour. Geometric sets can make the room look quirky and floral sets can give it a refreshed look.
Hassle free usage and ease of storage
These sheet sets are easier to use than regular sheets since they include fitted sheets with deep elasticated pockets that make it effortless to tuck in on all sides of the bed mattress. These elastics serve in tucking the sheets so that there is no room for wrinkles. Thus, there is no need to waste time pulling, tucking, making adjustments, and then pulling and tucking on the edges of the bed until the exact corners are achieved. This makes the sheet sets more manageable. However, it does not end there; one of the most significant advantages that sheet sets provide is the convenience of storage! The sheet sets are stored in small storage packs. The compact storage packs in which the sheet sets are fastened together make it easy to place them aside in the cupboards when travelling or when not in use. With the specially made packs, it can also be easily stacked up without giving it a worry of tumbling down.
Easy on Pocket and time
Sheet sets allow one to pick most of the bedding requirements in one go, it saves time and energy spent in gathering different pieces from various places. It saves you the trouble of finding the right combinations of designs and fabric quality for each of the pieces. Everything is compactly packed, therefore, there is no hassle of mix n' match while selecting bedsheets. Getting your cushions, pillow covers, sheets and other bedding related accessories in one place puts a stop to the never-ending spiral of searching and sourcing all your materials.
'A good laugh and long sleep are the best cures in the doctor's book' says an Irish proverb and statistics reveal that we spend a good 33% of our lives sleeping. So why not make these moments of rest easy and pleasant for our customers!? Enquire with us for the order of Sheet Sets!