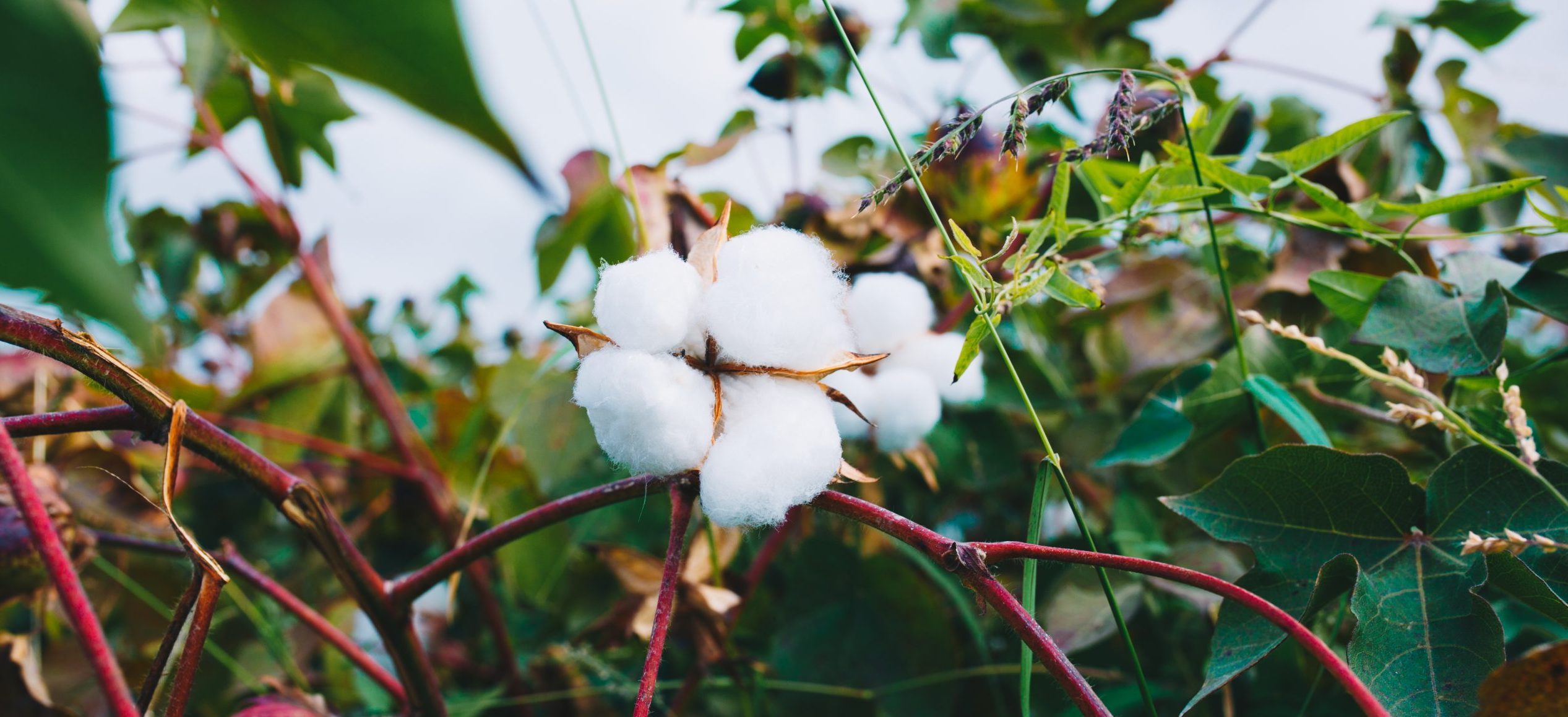 From bedding to the clothes we wear, from cotton buds to the towels we use, cotton is a part of our everyday life in more ways than we can imagine. And is it not just this ball of fluff – The seed oil that comes from cotton is used in food and cosmetics, coffee, filters, paper, plastics and more. Cottonseed meal, a by- product of cotton is considered to have high protein content and used as animal feed.
No surprise then that cotton is one of the most popular fibers, and one of the most widely produced crops with an estimated world-wide production of 25 million tonnes.
Indian textiles have been popular since ages and Indian cotton too naturally has gained significant importance in the world market.
India has produced cotton for thousands of years and today, 5.8 million farmers make a living from cotton cultivation, with tens of millions more employed in the cotton industry. Once considered a royal plant, cotton is also referred to as 'the tree that grows wool' or 'white gold'.  Spread across regions in India, today cotton textile centers are concentrated in the states of Maharashtra, Gujarat, Tamil Nadu, Uttar Pradesh, Karnataka, Madhya Pradesh, Rajasthan, Punjab and West Bengal, particularly in the three cities of Bombay, Ahmedabad, and Coimbatore. In fact Mansa district, situated in the cotton belt of Punjab, was once popularly known as the "Area of white gold."
Cotton making dates back as long as the Indus Valley Civilization which was located in modern India and Pakistan. It is believed that people from this civilization were the pioneers of cotton cultivation as well as dyeing technologies. The art of converting cotton into beautiful fabrics using dyes and indigo by the people of Indus valley civilization, is probably what gave birth to ethnic cotton prints of India, variations of which are now popular across the world. Khadi, Kalamkari, Chikankari, Ikat, Bandhani, Ajrakh, Lepcha, Ikat, Phulkari, Kota and Bhagru are just some of the beautiful cotton textile designs, that are hugely in demand.
Production of cotton textile 
The process in which this soft fluffy white bolls that absorbs colours can be transformed into vibrant reams of cloth is very interesting as well as an extensive process.
The production consists of handpicking the cotton bolls, separating the fiber from the seeds which is called ginning and then rolling the fibers into balls which is called baling. After this preparatory process the cotton bolls are spun into threads and then finally woven into a cloth.
Cotton qualities 
The four most common types of cotton produced are Gossypium hirsutum, Gossypium babadense, Gossypium arboretum, and Gossypium herbaceum.
They come in various forms of fibers.
1.Long Staple fiber 
It is the longest fiber, as the name implies, with lengths ranging from 24 to 27 mm. This fiber is long, lustrous, and fine. This fiber contributes to the production of outstanding and exquisite quality textile. Long-staple cotton is the most commonly used cotton in India and has a low Kapas price. Long-staple cotton accounts for almost half of total cotton output in India. Punjab, Maharashtra, MP, Tamil Nadu, Haryana, AP, and Gujarat are the largest producers of long-staple cotton.
2.Medium staple fiber
The fiber length of medium staple cotton ranges from 20 mm to 24 mm. A middling staple accounts for over 44 percent of total Kapas output. Uttar Pradesh, Karnataka, Madhya Pradesh, Tamil Nadu, Punjab, Rajasthan, and Maharashtra are the major states. A medium staple fiber is the second most often used fiber in India, and it produces high-quality clothing. It is available at an economical price.
3.Short staple fiber 
A short staple is the shortest fiber and inferior cotton. The length of short-staple cotton is less than 20 mm. It manufactures inferior cloth at a low price. Short staple cotton produces about 6% of total production. The main producers of short-staple cotton are AP, UP, Haryana, Punjab, and Haryana.
Organic Cotton
Organic cotton is cultivated without the use of any synthetically created chemicals (i.e. pesticides, growth regulators, defoliants, etc.) or fertilisers. However, it cannot be labelled as organic unless it is certified as such. Organic agriculture is an ecological production management system that encourages and increases biodiversity, biological cycles, and soil biological activity. It can be described in a variety of ways.
It is based on the use of as little off-farm inputs as possible and management approaches that restore, maintain, and improve ecological balance. Organic cotton is steadily gaining hold, both on the field and in the marketplace. Also, there are no toxins or synthetic fertilisers utilised. Now, isn't that something!?
Organic cotton is allergy-free because it is grown without the use of harsh chemical bleaches or dyes. Natural fertilisers, compost, and soil amendments are used, and developments in natural pest management, such as ladybugs that kill destructive insects, have helped make organic cotton production a sustainable business. Organic cotton apparel, once unheard-of, is now widely accessible. Shirts and slacks, socks, underwear, skirts and blouses, sheets and pillows, towels and bathrobes can now be manufactured from organically farmed cotton. A variety of designs are now being produced to meet the rising demand for organic cotton.
Some of the few reasons why people are fond of this fabric are:
It is natural since it is made from plants. Cotton is generated from the fluffy boll of ripe seed, making it soft and comfortable to wear.

It is breathable because of their ventilative characteristics, natural fabrics such as linen, cotton, and jute are soft and skin-friendly. Unlike synthetic textiles such as polyester or nylon, it is not clinging and hence does not bother your skin when you sweat. It preserves airflow and allows perspiration to naturally cool. Furthermore, regardless of the number of uses or the scenario, it does not stink.

It is long-lasting because pure cotton shrinks minimally, it is necessary to wash a cotton cloth before sewing. However, once it has done so, it seldom changes form and remains its dimension. It is more durable and strong than silk, yet wool outlasts it by miles.

It is machine-washable! Cotton textiles are readily hand-washable or machine-washable. You do not need to store them for dry cleaning.

It is inherently anti-pilling—the fuzz balls of cloth that get knotted beneath the arms or between the thighs. Cotton does not rub against itself and does not shed pills.

It is hypoallergenic- If you have sensitive skin or suffer from seasonal allergies, it is best to choose cotton fabric and upholstery. Cotton textiles, according to doctors, do not allow dust particles or mites to accumulate. Furthermore, organic cotton fibers are bleach-free, pigment-free, and chemical-free, making it skin-friendly and a safer alternative to use even for newborns!

It regulates temperature. Have you ever wondered why a cotton fabric makes you feel so at ease and light? Cotton fibers can absorb up to one-fifth of their weight before getting damp. The twisted and flat weaving of the thread increases the volume of the material, allowing it to absorb moisture and give more surface area for breathing while distributing moisture into the atmosphere. As a result, whether you wear cotton or use cotton bedsheets, you will remain comfortable and dry throughout the night! Because the fabric regulates your body temperature and keeps you dry, it is ideal for a good night's sleep.
Know more about why cotton is the most preferred also in winter: Read this.
Determining the quality of cotton
Quality of cotton can be determined on the basis of the grade (which is the the colour of the cotton, the smoothness of the cotton as well as the level of presence of particles); staple which is the length of the fiber and micronaire which is the origin, variety of cotton and the maturity and fineness of the fiber.
Indian Cotton
India today is one of the top cotton producers in the world, making it an important crop of the country and one of the most commonly used textile raw materials in the world. This has seen an increasing demand for both organic and non-organic cotton.
The Indian cotton provides livelihood to about 60 million people in the country in the agriculture industry as well as the garment making industry and has been a key contributor to India's foreign trade not just in the form of raw cotton, but products like yarn and fabrics and finished goods like garments.
As per estimates provided by Committee on Cotton Production and Consumption (COCPC), India's total cotton exports stood at 7.8 million bales in 2020-21 growing strongly from 4.7 million bales of exports witnessed in 2019-20.In 2021-22, India exported cotton to over 159 countries throughout the world. Bangladesh, China, and Vietnam were India's major cotton importers between April 2021-February 2022, collectively accounting for 60% of India's total exports.
Hassle free maintenance, easy on the skin, comfortable and -friendly, cotton has now become The supreme quality of Indian cotton is comparable to that of any cotton produced worldwide. So much so that India recently launched its premium cotton in the world trade market, branding it as 'Kasturi Cotton' –   Cotton that represents whiteness, Brightness, Softness, Purity, Luster, Uniqueness and Indian-ness.
In order to manufacture cotton products including organic products that range from T-Shirts, Hoodies, undergarments, home décor, woven fabrics to more, drop a mail to [email protected].
Tags:
Indian cotton fabric
Indian cotton variety
Indian cotton price today
Indian cotton fabric types
Indian cotton brands
Indian cotton price chart
Indian cotton textile
Indian cotton dresses