Aprons manufacturers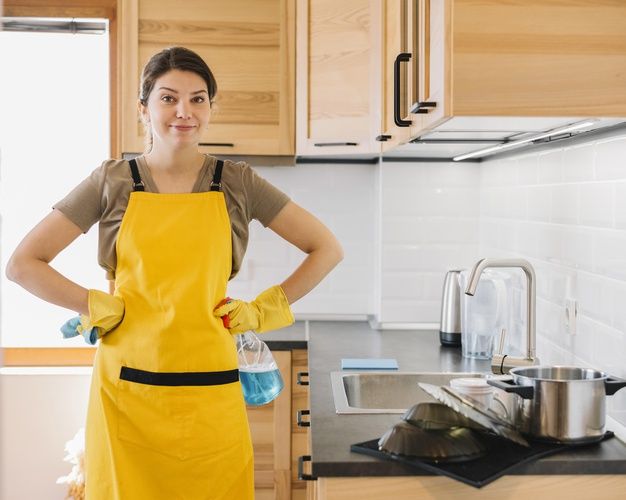 You've come to the right place if you are looking for an apron manufacturer. Here at Cotton Monk, we understand the specifics which go into making each apron that is tailored to each industry. The choice of fabric, design and fabric finish is tailored to suit the working conditions that the apron will be used in. As simple as an apron may sound or look, what goes into producing it is based on many technicalities. Cotton Monk manufactures aprons which are masterpieces curated to each of their versatile clients. With over 40 years of experience in the textile manufacturing sector, Cotton Monk is well-equipped to manufacture the right apron for the right industry.
What are Aprons?
Aprons are essentially a part of your everyday life. Aprons are a versatile piece of cloth with a similar purpose spread across different sectors and professionals like bakers, chefs, hairdressers, housekeepers, florists, painters, physicians and even industrial grade aprons used by factory workers. It comes in various designs, silhouettes and materials like nylon, cotton and others based on the industry type where it will be used. Adding to its versatility, aprons are one of the best promotional products that you can offer to employees from different disciplines. You can market your business by branding the aprons sensibly with logos and designs which create an impact to customers and possible clients. Apron manufacturing is an integral part of Cotton Monk's business and here to help you in the process of getting the right one.
Different Types of Aprons:
1. Bib Aprons
Bib aprons are manufactured in a way that it slips over the neck and is tied around the waist. The bib apron, also known as the chef's apron, has pockets similar to those found in other types of apron. It covers a good percentage of the torso. These are the most popular type of aprons used across a lot of industries. Bib aprons are manufactured mostly for chefs and other professions in the hospitality industry.
2. Waist Aprons
This apron is tied around the waist and reaches down till just above the waist so that it doesn't restrict the movement. It does not cover the torso.
3. Tuxedo Aprons
Tuxedo aprons are an upgraded version of the bib apron. Waiters and waitresses are usually seen wearing these tuxedo aprons which gives the attire a more professional look.
4. Four-ways Aprons
This particular type of apron is manufactured in a way for people who have to change their aprons many times before washing it. It is made with different layers where each layer of the apron can be changed once it gets dirty. This type of aprons are essential for chefs and back kitchen staff.
5. Dishwasher Aprons
These aprons have a similar style as the bib apron but it differs mainly on the type of fabric which is used. Dishwasher aprons are water resistant and sometimes heat resistant. These aprons are manufactured from fabric which is more resistant to friction.
Aprons are made from a durable, washable fabric which acts as a crucial piece of uniform for the employees. Each apron is precisely made according to which industry it is pertaining to.
The Right Type of Fastenings While Manufacturing Aprons
Fastenings are essential for apron manufacturing. There are a lot of factors to keep in mind while choosing the fastenings for aprons. The materials and type of the fastenings are to be kept in mind.
1. Tie Closure
Tie closures are made with two pieces of the base fabric is used to secure the apron onto the person. The ties should be long enough to be able to be comfortable to be tied by the person themselves. Since it is made of the same fabric, aprons with tie closures can be washed easily.
2. Snap closure at the neck
Aprons with snap closures at the neck can be used to secure the apron with ease. Removing the snap closure around the neck is what is most useful.
3. D Ring Closure
D ring closures are helpful to tie down aprons which are made of slightly heavier fabric. The ties loops around a D shaped ring.
4. Hook and Loop closure
Hook and loop closures are extremely popular with the genericised trademark velcro, due to the prominence of the Velcro Brand. Hook and loop closure is popular do to the ease of putting it on and taking it off.
Choosing the right Fabric to Manufacture Aprons
Selecting the right materials for their aprons, most restaurants are inclined towards 100% cotton due to its durability and breathability. 100% cotton also has its downsides – it dries slowly, lacks elasticity (for movement in the kitchen), it can easily wrinkle and lose colour quickly. Polycot fabrics are considered a better option. Polycot aprons offer all the benefits of 100% cotton, and avoid all its disadvantages – they are fade resistant, cost-effective, and less prone to wrinkling and are easily washable! Coming to other industries for painters, carpenters and factory workers, denim, canvas and leather which are sturdier and thicker to provide increased protection for their specified working conditions.
Choosing a material that withstands excessive heat, stains for a long period is necessary in the hospitality industry.
One of the requirements for making a good apron out of top apron fabric is the thread count, the more threads per square inch, the better the apron will last. If the person is doing a lot of washing dishes or washing the floor, then they should have an apron made from a rubber or nylon which are water resistant. If the person is working around a lot of sparks or flames, then fire retardant material or properties would come in handy. Choose your fabric according to the size of the person wearing it and the duties they have to perform.
Fabric Finishes for Apron Manufacturing
Choosing the right type of apron includes its design, material and fabric finish.
1. Teflon® treated fabrics
The Teflon treated fabrics offer a combination of stain and water repellency, providing the greatest protection with the lowest absorbed energy and longest times to second degree burn injury compared with the other finishes (i.e., regular, water repellent and oil release). This provides a suitable finish that can be used for chefs' aprons.
2. Polyester/Tencel® fibre Fabrics
Fabrica that are made with polyester/Tencel® fibre offer excellent moisture management, a cooling effect and a smooth fibre surface, helping to prevent skin irritations and maintain skin balance.
3. Chitosan
Chitosan can be considered as a multifunctional textile-finishing agent becau antimicrobial property can be combined with other functions such as dyeing improvement, antistatic and deodorant activity. Aprons are also widely used in the medical industry. It plays a crucial role for healthcare providers. These aprons are subjected to different finishes such as Chitosan.
4. Nuva N 2155 and Sanitized TH 2227
Functional finishes to surgical fabrics for blood repellency and anti-microbial action enhances the protection level for doctors in hospitals. For increased safety during surgeries and to reduce infection between doctors and patients, anti-microbial and blood repellent finishes are preferred. Nuva N 2155 and Sanitized TH 2227 finishes are used in the medical industry for its antimicrobial and blood repellent properties.
What to Look for While Choosing the Right Aprons
1. Coverage
Aprons should be designed and manufactured in a way that should ideally protect and cover the part of the body which could be in contact with harmful substances.
2. Comfort
Aprons should be manufactured in a way that it is comfortable for the wearer. As it is an integral part of most uniforms, the right fabric and right style is essential while choosing an apron.
3. Durability
Aprons are used so that it protects the wearer, hence it will be in constant contact with dirt and abrasion. Choosing a durable fabric which can be washed numerous times is crucial.
Cotton Monk will guide you to choose the right material, design and fabric finish for each apron that you need. Providing unmatched quality and comfort, Cotton Monk commits to excellence. Our state- of-the-art equipment and strong workforce will take you through every step of the way. An organisation that is known to go an extra mile for you. Manufacture your aprons with Cotton Monk.
Choose Right. Choose Wise. Choose Cotton Monk.